PRO-26F-RI-N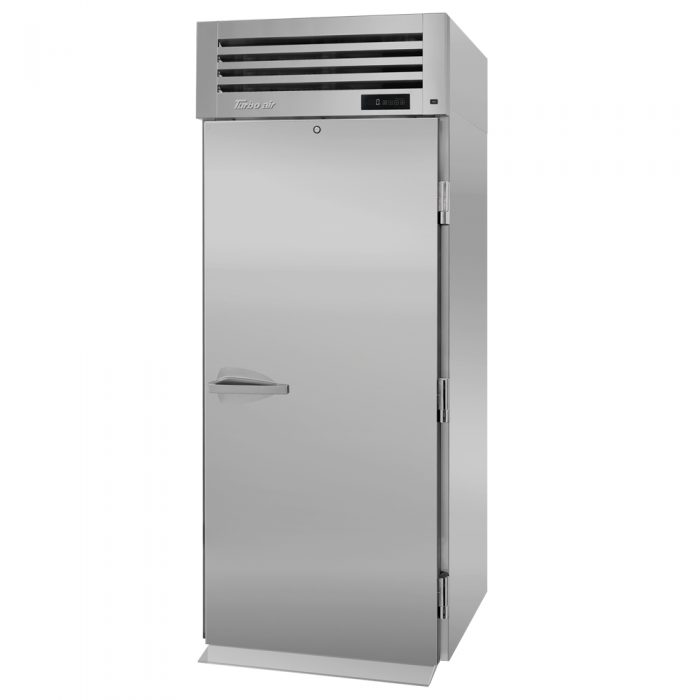 Key Features
PRO Series Freezer, Roll-in, Top mount, One-section, 39.99 cu. ft., Exterior LED digital temperature controller, Door-open alarm beeps, Self-diagnostic monitoring system, Automatic fan motor delays, Smart defrost system, LED interior lighting, Extra deep, (1) hinged solid door with lifetime guaranteed heavy duty hinges and handles door handle & lock, Field reversible door hinge, accepts (1) rack, Stainless steel interior and exterior, galvanized steel top and bottom, Door pressure release, Heavy duty stainless steel ramp, Self-contained system, 1/2 HP, 115v/60/1, 7 Amps, NEMA 5-15P, ETL-Sanitation, cETLus
Warranty
3 Year Parts & Labor
Additional 4 Year Compressor
Documents
Features
Self-Cleaning Condenser
The accumulation of dust in the condenser can cause the failure or breakdown of refrigerators. Refrigerators run normally until they reach a certain level of accumulation. At some point, when they are over the limit, their performance drops quickly resulting in damage to, or disposal of the stored products inside. The Self-Cleaning Condenser device keeps the condenser clean and prevents system failure by automatically brushing daily.
Digital temperature control & monitor system
• Keep food products safe by maintaining constant temperatures.
• Alarms that sound when doors are not sealed shut; protect against food spoilage that originates from cold air leaks.
• Early warning alarm program detects issues before malfunction occurs.
• Digital display allows for easy monitoring.
• Programs interpret the condition of refrigeration systems by self-diagnosis.
• Automatic evaporator fan motor delays.
• Sensitive touch display.
Hydrocarbon refrigerants (R-290)
With innovative and eco-friendly technology, Turbo Air brings you hydrocarbon refrigerators designed to meet the new standards of the EPA and DOE in 2017. Hydrocarbon refrigerants do not deplete the ozone layer and have very low contribution to global warming (ODP-0, GWP-3).
All stainless steel cabinet construction
The Turbo Air Pro model boasts all stainless steel interior and exterior (galvanized steel top, bottom and back). It guarantees the utmost in cleanliness and long product life. The Pro model can add a touch of style to the most refined setting.
Cold air distribution system
Provides uniformly maintained temperature within the food zone.
Door pressure release device
Pressure relief doors are designed to eliminate vacuum pressure and allow easy, instant door opening.
Built to maintain NSF standard temperatures in 100°F ambient
High-density polyurethane insulation
The entire cabinet structure and solid doors are foamed-in-place using high density, CFC free polyurethane insulation.
USB temperature data storage
Plug in a USB flash drive into the built-in USB port to store raw temperature data while the unit is operating. Raw data can be processed via Turbo Air's website, which plots it on a convenient date and time versus temperature graph. Owners can analyze their unit's performance to ensure stable temperatures during peak usage and detect any temperature anomalies.
LED interior lighting
Freezer holds -10°F ~ 0°F for the best in frozen food preservation
Lifetime guaranteed heavy duty hinges and handles
• PRO-26F-RI-N: Right hinged
• PRO-26F-RI-N-L: Left hinged
Standard Features
• Anti-corrosion coated evaporator
• Door locks standard
• Self-contained system
• Solid and sturdy grille design
• Heavy duty stainless steel ramp standard
• Top mount compressor

Warning: This product can expose you to chemicals including Bisphenol A(BPA) and Di (2-ethylhexyl) phthalate (DEHP) and
Cobalt sulfate heptahydrate, which are known to the State of California to cause cancer, birth defects, or other reproductive harm.
For more information, go to www.p65warnings.ca.gov.