TIOM-20RSRB-N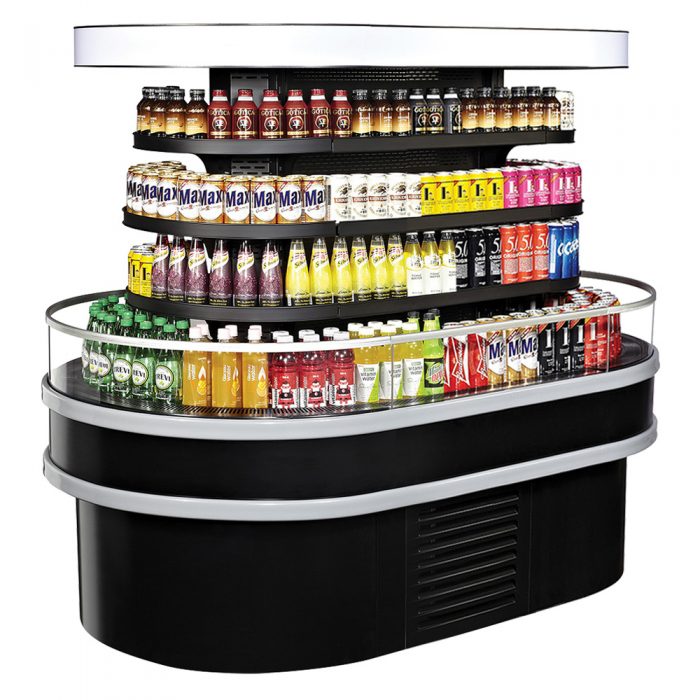 Key Features
Island display case, Self-serve merchandizer, Self-Cleaning Condenser equipped, Hydrocarbon refrigerant R-290, Modern design to enhance impulsive sales, LED lighting on top panel and canopy, ABS bump guard liners, 5mm thick durable clear PC (polycarbonate) product stopper, simple plug-in installation, self-contained system (no plumbing required), digital electronic thermostat with defrost control, price tag rails standard, 220/60/1 Voltage, NEMA L6-30P, 20.14 amp, 3/4 x 5 HP, R-290 Refrigerant, 19.2 net capacity, 3 tiers, standard color comes in black only
Warranty
2 Year Parts & Labor
Additional 3 Year Compressor
Documents
Features
Self-cleaning condenser
The accumulation of dust in the condenser causes the failure or breakdown of refrigerators. Refrigerators run normally until they reach a certain level of accumulation. At some point, when they are over the limit, their performance drops quickly resulting in damage to, or disposal of the stored products in refrigerators. The self-cleaning condenser device keeps the condenser clean and prevents system failure by automatically brushing daily. 
Hydrocarbon refrigerant (R-290)
With innovative and eco-friendly technology, Turbo Air brings you hydrocarbon refrigerators designed to meet DOE's Energy Conservation Standards in 2017 and to use EPA's SNAP Program approved HC refrigerants. Hydrocarbon refrigerants do not deplete the ozone layer and have very low contribution to global warming (ODP-0, GWP-3).
Modern design
By harmonizing curvature and rigidness, our modern style product designs are user-friendly while maintaining the highest product visibility and aesthetics. The glass front shield optimize the merchandiser's display effects of fresh salads, sandwiches, desserts and beverages.
Designed to enhance impulsive sales
Ideal for eye-catching displays and convenient access with fast service in high traffic areas.
LED lighting on top panel and canopy
Brighter and longer lasting LED lights provide attractive, enhanced illumination compared to fluorescents. It saves energy by producing less heat, while maximizing the visibility in the display area.
ABS bump guard liners
5mm thick durable clear PC (polycarbonate) product stopper
Simple plug-in installation
Patented self-contained system, no plumbing required
Digital electronic thermostat with defrost control
Price tag rails standard
Standard Features
Standard color comes in black only
Recommended operating conditions
TIOM models are designed to operate in an environment where temperature & humidity do not exceed 75°F and 55% respectively. Units should not be installed near HVAC vents, fans or doorways that will disrupt the air curtain and compromise the function of the cabinet. Air curtain models will run most efficiently when completely loaded with product.
Warning: This product can expose you to chemicals including Bisphenol A(BPA) and Di (2-ethylhexyl) phthalate (DEHP) and
Cobalt sulfate heptahydrate, which are known to the State of California to cause cancer, birth defects, or other reproductive harm.
For more information, go to www.p65warnings.ca.gov.
Parts & Accessories
Optional Accessories
• Set of 2 Bracket (w/2ea 1.6" casters, non-brake): CAS16W2000
• 4" caster, ½" diameter & 13 TPI: G8F6500101 (non-brake), G8F6500201 (w/ brake)
• 6″ leveling seismic leg (½", 13 TPI): 30221M0700